Electrician for Home Remodels
Request A Residential Electrician
Choose the Best Electrician in Chicago
The Home Remodel Electrical Experts
Are you in the process of remodeling your home? If so, it is important to hire a qualified and experienced electrician to help with the project. A professional electrician will ensure that all of the electrical work is done safely and correctly. At Accurate Electrical Solutions, we provide Chicago with expert electrical services for home remodels. With more than 15 years of experience, you can trust us to provide you with excellent electrical services and an unparalleled customer experience.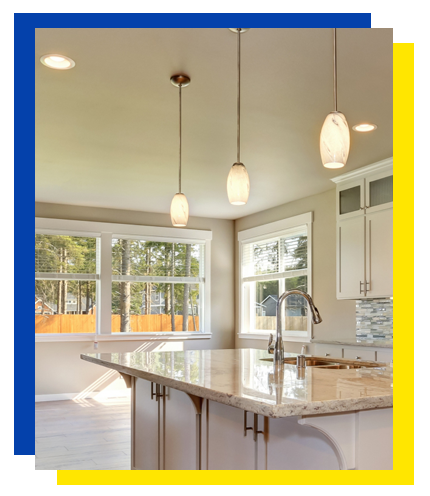 Types of Electrical Work Needed During a Remodel
During your remodel, you are likely to come across some electrical work that needs to be completed. The type and scope of the project will depend on which rooms you're remodeling as well as the size of your remodel. At Accurate Electrical Services, our customers often come to us for help with the following electrical work during a home remodel:
Adding new circuits/wiring to the existing electrical panel

Installing new electrical outlets and switches

Upgrading the main service entrance (amp) of your home's electrical system

Replacing light fixtures

Ceiling fan installation
If you are planning a home remodel, call us today for more information or to schedule an estimate!
Why Work With Accurate Electrical Solutions During Your Remodel?
We have been providing Chicago with expert electrical services since 2011.

We work efficiently without compromising excellence to get the job done right the first time.

We work on projects of all sizes, whether you just need a few outlets installed or something larger such as rewiring and a panel upgrade.

We'll leave your property more safe and convenient than we found it.

We'll get you started with a free estimate for your home remodel electrical project.
Request an Estimate From the Best Electrician in Chicago
If you are in need of an electrician for your home remodel, call Accurate Electrical Solutions today! We provide quality electrical services to residents in Chicago and the surrounding areas. With more than 15 years of experience, we are confident we can handle any electrical needs you may have during your remodel project. Contact us to request your free estimate.
Contact Us Today For Service You Can Trust