Electrician for New Home Construction
Accomplish Projects With The Best Electrician in Chicago
Your Local Experts For New Homes & Buildings
Whenever a new residential or commercial establishment is built in the Chicago area, it's important for its electrical work to be bright up to code and to be deemed liveable and safe. At Accurate Electrical Solutions, we have over 15 years of experience helping our builder and contractor clients, primarily by providing the best electricians in Chicago for new home construction. In fact, no matter if you're a homeowner, architect, contractor, or other construction professional, Accurate Electrical Solutions can help you ensure your project is not only feasible, but outfitted with high-quality, safe wires, sockets, and switches!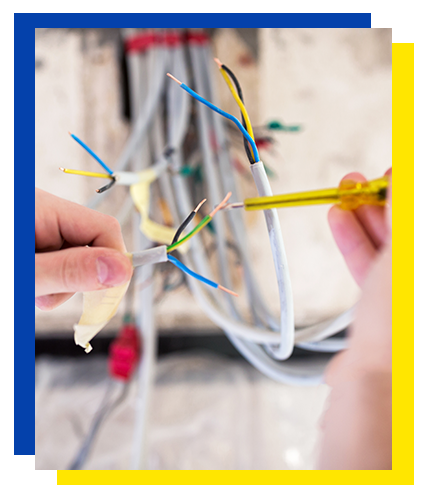 Types Of Electric Work New Home Construction Projects Need
Before you go about sourcing the right electrician for new home construction, it's important to understand what all goes into this type of project. Only the best electricians in Chicago know that the necessary electrical work for new homes or buildings starts at the actual construction site, visiting while the building work is ongoing and setting up appropriate electrical panels, outlets, and writing. It's the mission of our Accurate Electrical Solutions' electricians for new home construction to meet the needs and desires of our clients and to help them understand what setups are feasible and how features such as lighting and generators can be installed effectively. If you're ready to get started, contact us for a free quote today!
Why Choose Accurate Electrical Solutions For Bringing Your Chicago Home Up To Code
No matter if you're building your dream home, or are constructing a commercial office space, Accurate Electrical Solutions is your solution! We are proud to be the best electrician in Chicago and surrounding communities, capable of helping our clients keep up with maintenance, upgrades, updates, and important electrical safety codes. Eliminate a problem before it even begins by having an electrician for new home construction visit your construction site and ensure everything is built and installed to the right specs.
Request an Estimate From the Best Electrician in Chicago
If you're getting ready for a brand new construction project, call Accurate Electrical Solutions today to get a free quote from our experienced specialists. We aim to take the stress of installing correct electrical work out of the equation and providing you with well-installed, well-functioning sockets, writing, and switches. As the best electrician in Chicago, we guarantee code-compliant workmanship that lasts!