Outlets, Switches and Fixtures
Request A Residential Electrician
Offering Chicago Electrical Outlet Repair & Installation Services
Whether you're installing new appliances, remodeling your home, or wanting to update dim and outdated lighting fixtures in your home, you may need to repair electrical switches and outlets or install new ones altogether. At Accurate Electrical Solutions, we provide efficient and reliable electrical switches and outlet solutions to homeowners. As one of the best electricians in Chicago, you can rely on our team to make sure your home is equipped with the right electric receptacles so your home receives flexible, safe, and reliable power delivery. We'll respond quickly to your service request to provide you with the electrical services you need — contact us today.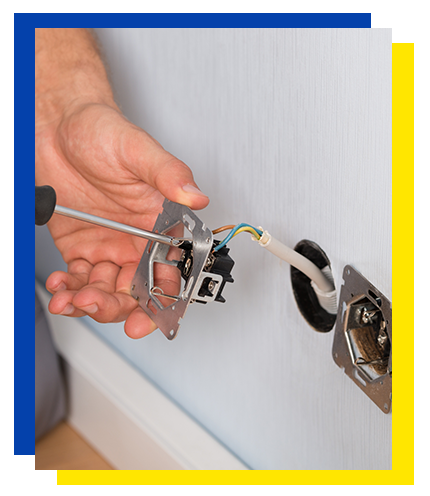 Reliable Service From Experienced Chicago Electricians
Unless you have the proper experience and know-how, electrical work in your home should be done by a professional. At Accurate Electrical Solutions, our electricians are trained and experienced in the best practices related to your home's electrical system. Count on us when you need:
Wall Outlet Repair

Wall Outlet Installation

Wall Switch Repair

Wall Switch Installation

Electrical Fixture Repair

Electrical Fixture Installation

And So Much More
Power Your Home Safely & Efficiently With Accurate Electrical Solutions
The electrical switches and outlets in your home provide the power needed to charge your devices, turn on the lights, and to operate appliances, air conditioning, and more. It is imperative your home's switches and outlets perform to the highest standard in order to deliver the safest and most reliable power. No matter the type or age of your home, our licensed Chicago electricians can help ensure your home is equipped with the best electrician in chicago.
Specializing In Repairs, Upgrades, and New Installations
If you've noticed that the electrical outlets, switches, and light sources in your home aren't working as well as they once did, it may be time to repair or replace them. At Accurate Electrical Solutions, we not only specialize in repairing or upgrading existing electrical components but new installations as well.
Outlet & Switch Repair - Faulty outlets and switches are an inconvenience. Whether you have outlets that aren't able to hold the plug or switches that aren't controlling the light fixtures properly, our electricians can provide reliable repair solutions.
Outlet & Switch Upgrade - Upgrading to modern electrical switches and outlets helps ensure you have safe and reliable power throughout your home. Our experts can upgrade the outlets and switches you have in your home to better suit your electrical needs.
Outlet & Switch Installation - Our skilled electricians here at Accurate Electrical Solutions add the outlets throughout your home to accommodate the needs of you and your family. We install outlets with safety and long-term performance in mind.
Contact The best Chicago Electrician Today!
At Accurate Electrical Solutions, we are committed to helping our community achieve peace of mind in knowing that their electrical systems are working safely and reliably. From electrical switches and outlet repairs to electric panel upgrades, we handle just about any electrical project, no matter how big or small. Our Chicago electricians install, service, and repair electrical systems and parts in strict accordance with the industry's highest standards. The next time you need electrician services, rely on our team and experience the Accurate Electrical Solutions difference.
Contact Us Today For Service You Can Trust